READ MORE ↓
Family Guy: The XXX Parody
It's the porn spoof created by the team that brought us hit adult movie "Simpsons – The XXX Parody" – Full Spread Entertainment and well known director of the genre Lee Roy Myers. Whether you are a fan of this successful comedy TV show or not you'll be enjoying in humor and beautiful girls that this flick offers. The similarity between the characters here and those in animated TV show are obvious and highlighted, so it provides more fun for the fans. The guys decide to do whatever they can to convince their wives to get nasty with them again before they lose their nerve, like Joe's legs.
Scenes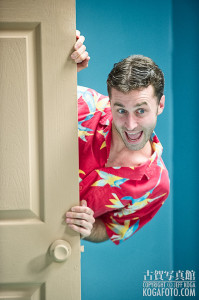 The guys are making a plan to get laid with their wives, and the first one to come through is Cleveland (Tyler Knight). He tries to be funny and cute, but his wife (Misty Stone) isn't thrilled with the idea. After some sweat talking, she finally relents and lets him play with her boobs. The clothes come off in no time and she reveals her amazing booty. She starts slobbing his knob, with lots of moaning and deepthroating involved. First she rides him cowgirl style, then takes his cock missionary, and after some more spooning she gets back on top of him for some more riding, now reverse cowgirl. Misty turns around to receive a cock from behind, allowing his husband to make her ass bounce, which was pretty hot. At the end she drops down and takes a round of his spunk in her mouth, but after she played with it she spits it out.
In the second scene a creepy guy Quagmire (James Deen) tries to hook up with wacky daughter Meg (Sarah Shevon). They are watching an episode of Friends, which makes them find out how much they have in common and brings them closer. They are now so excited so they quickly take their clothes off.
After she gets her pussy and ass properly licked, she lifts her legs up and takes James' cock in her pussy missionary style. Then she gets up to suck his dick, and she does it pretty sloppy, the way she always does. James fucks her some more in the pussy, but then makes her squirt with his two fingers. After the spooning with lots of kissing and pussy rubbing, she gets it a little bit more doggy style, sadly no anal here, ending with cum all over her face and glasses.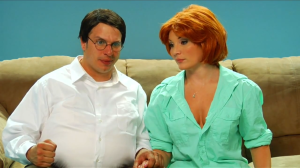 In scene three the next one to get laid was a super stud in the wheelchair Joe (Dick Delaware). He has to persuade his hot wife (Jennifer White) to fuck him, so he goes straight and says he wants to fuck her and he is lucky – the wife like that kind of dirty talk. She helps him lie on the bed and starts sucking, gagging on his cock and licking his balls, all that in order to prepare him for some hot and hard pounding that's about to happen. She even turns her ass ant gets into 69 to receive some pussy licking in return, while sucking his hard cock some more. Jennifer rides him cowgirl style getting her ass spread along the way, and then turns around for a round of reverse cowgirl pounding. They spooned a little bit, and the scene ends with the load all over her ass.
In the last scene the main couple of the movie – Peter (Anthony Rosano) and Lois (Aurora Snow), finally get the chance to make love, in a scene that abounds with comedy and hot sex. It didn't take much to get her ready to fuck. She strips down and gets on her knees to mouth his manhood. She keeps her husband's dick really wet and hard, and uses her hands perfectly providing some great eyes along the way. First she rides him in reverse cowgirl and cowgirl, than after some spooning she sticks her ass up to get it doggy style, and finishes stroking his cock for the last pop that landed in her mouth.
Summary
It's a short dvd feature with only four scenes, but all of them are filled with great humorous references and lines. A great cast here led by Aurora Snow and Misty Stone provide great entertainment, the characters selected not only fit their roles, but they each held that character through the entire movie, particularly in sex scenes, which doesn't happen often.
Date posted: June 14, 2014