READ MORE ↓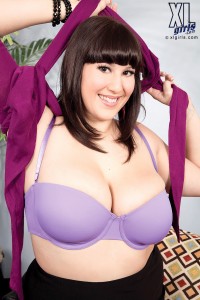 Angel DeLuca is a hot and young porn star who loves to have fun in front of the camera. She is a real bisexual, but according to her, she likes pussy better than she likes cock. Whenever the camera starts rolling, she gets into character and enjoys every moment of the sex she has on the set. That's what makes her so popular amongst the fans of BBW porn. That and the fact that she's an absolute hottie. She is half European and half Japanese. Her Asian side makes her face so cute and her European side gives her big boobs and a nice ass. She wears 32GG bras when she's not on set, case in which you can see her boobs in all of their beauty. She is 5'6 tall and weighs 180 lbs. For some, that might not be much, as we are talking about a BBW porn star, but she has some mad curves and her boobs are natural. Find out how she uses her beauty and sex skills in front of the camera from the following paragraphs of this Angel DeLuca bio.
Besides a pretty face and a tight pussy, the Japanese roots of this babe also give her an out of the ordinary kinkiness. She is a bisexual, so she loves both pussy and cock. When it comes to cock, she loves to take it hard and be dominated by the men who fuck her. On the other hand, she likes to dominate her fat lesbian friends. She began her porn career back in 2009 and she is still active. You can watch her movies either on the different network for which she shoot, either on her site where she uploads the movies produced by herself.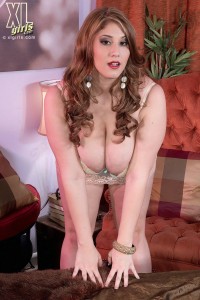 She shoot for studios and sites such as Wicked, Plumper Nation, Adam & Eve, Eyecandy and Score. Her site is full of hot lesbian porn. You can watch her slapping her lesbian friends with her huge boobs, masturbation videos with kinky sex toys, and even a video in which she spanks another fat chick 101 times till her ass is all red. Like many other porn stars of today, Angel DeLuca is also a webcam model. You can watch her shows on MyFreeCams, where she regularly streams for her fans. She is available for group chat, party chat, but also for private webcam sex sessions. She has low prices and great ratings.
Angel DeLuca is a bit secretive about her behind the camera scenes. It's either that she doesn't have time for a personal life, or that she knows how to keep it away from us. All I know about her as a person I got it from her activity on social media. She has many happy fans that follow her on tweeter, but if you want occasional sexy treats, you should check out her SnapChat account. She has a background in film production and design. She is very active when it comes to size-positive issues, and she tries to convince other women to love their body how they are. She likes to say that her porn career is empowering fat women all around the world, since porn is usually all about skinny girls with big boobs. Her success will keep on inspiring BBW chicks every day, and I hope she will be the reason for which new chubby models will take on a porn career.
Date posted: October 24, 2016