READ MORE ↓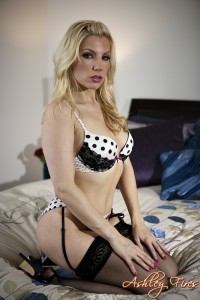 Ashley Fires is one of the porn stars that showed the industry that performing only in girl/girl movies is not an impossible matter. She started out in 2003, and during her first 8 years as a porn star, this hot chick has only had sex with other girls in front of the camera. After the eight years as a lesbian porn star, she decided to change her mind and start shooting videos with dudes as well. That's not because the industry forced her to do so, but because she built such a huge fan base, about which she cared a lot. They are the ones who demanded that and Ashley happily fulfilled their wish. That moment relaunched her career and she gained even more popularity. She is one of the top 1000 porn stars worldwide and she loves that. However, at the beginning of this year she decided to put a stop to her porn star career and pursuit personal passion. Rumors say that she will have a comeback, just as many chicks in the industry, but so far nothing is certain.
The 12 Years in the Business
Although Ashley Fires is only 33 years old, she spent 12 on them on the set of some famous porn studios. Her venture in the adult industry started when she was 19, as an exotic dancer. From there to becoming a porn star was just a single step. Even since her first performances, Ashley Fires was offered various parts in adult movies. However, she held back until something serious and professional came her way. Even since she was young, her ass was amazing, and often she was casted in lesbian movies that featured a lot of ass action. She is so hot that she admitted to masturbate on her own movies.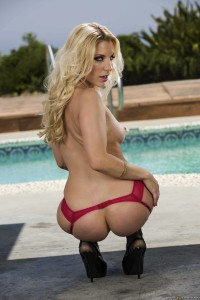 She is one of the most appreciated AVN Winners and one of her best productions is the 23 installment from the Elegant Angel's series Big Wet Asses, released for which she was on the cover, with an amazingly image of her big round wet ass. At the moment she put pause to her career, as she moved in New Hampshire for personal matters. But her leave is nothing but a lack of good dick on the west coast. She is not trying to start her own production house, but things are tough, as she needs to import her male porn stars. Helping her live this dream is her husband, Jack Kona, who is also a porn director and who helped her with many of the movies she performed in. She has dozens of nominations, but her only win is the Sexiest Adult Star Award from the 2013 Sex Awards.
Her Kinkiness Is Not an Act
The real name of this sweet and sexy blonde is Trisha Jean Newalu and she was born on March 2nd 1982, in Los Angeles. She recently moved to the East Coast, and she both likes and hates it, because she feels like in a different country. She is a well-known chronic masturbator, doing it several times a day, even when her husband is around. When it comes to porn preferences, she loves shooting creampie for the warm sticky feeling she gets inside her vagina. She is a total bisexual and her hubby seems to be very ok with that, so much so that she often invites girls home to have them lick her pussy while he watches. All in all, she is just as kinky off set as she is on camera, and she doesn't shy away to show it. Maybe that's the reason for which she has so many fans. Ashley is always active on Twitter and Tumblr, where you can get a hold of her.
Date posted: August 5, 2015