READ MORE ↓
Life before porn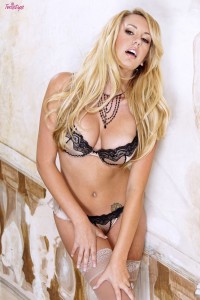 Brett Rossi was born Scottine Ross on May 21, 1989, in Fontana, California.  Rossi grew up with her mother and grandmother in Southern California.  When she was 14 years old she was scouted by a coach who directed runway shows for Gottschalks and Forever 21; he asked her whether she was interested in a runway model career. She was a pretty and tall girl and accepted the offer and her grandmother who was once a model herself helped her with her career.  Since she was a minor she didn't have many runway shows, so she was focused more on photo shoots for local retailer catalogs.
When she turned 18 most agencies didn't find her suitable for a runway model (she was 5'8/173 cm) and that lead her to seeking other options. Soon she transferred from being a model to a glamour model and her career went internationally.
Porn Career
In 2010 Brett decided to change her stage name to Brett Rossi in order to protect her identity because at this point she was already posing for various men's magazines. This way she was earning for college. During this time she was working at the Playboy Mansion as a painted model. In 2011 she made her national debut when The Howard Stern Radio Show named her "Miss Howard TV of December". She took part on Stern's radio show; in the future she hosted the December Howard 100 series on his satellite TV channel. In December the same year she also was named Playboy's Cyber Girl.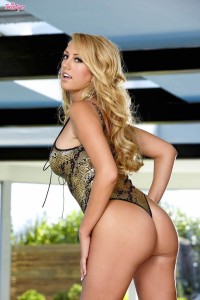 Although Brett was still having the idea to continue her career as a model and work for big commercial companies under her real name, none of it happened. Her new stage name was already becoming big and internationally recognized thanks to her new title Miss February 2012 Penthouse Pet of the Month. This helped her get a contract with one of the most popular adult-video companies in the world. She signed it and the contract had stated that her image would remain decent and all of her work will be "classy".
In May of 2013 Rossi decided that she no longer wanted to continue her contract due to irreconcilable differences with the company. The same year she announced her retirement from the porn industry.
Personal life
In 2013 (the same year when she retired from the industry) she decided to go back to college and get her degree in Nursing. Six months later she began dating actor Charlie Sheen; in February 2014 they got engaged and she took his last name. Their engagement was called off in September 2014.
In May 2014, it was announced by US Weekly that Brett Rossi has publicly acknowledged her real name (Scottine) and that she decided to leave her past behind as well as her stage name "Brett Rossi".
Date posted: November 12, 2016