READ MORE ↓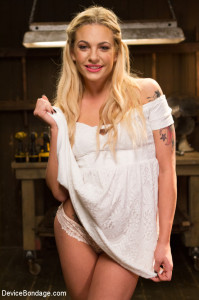 One of the biggest pornstars of today, Dahlia Sky used to be called Bailey Blue, until a clothing company named the same way forbade her to use Bailey Blue again – after all is said and done, no clothing line would want to be associated with a woman called the Anal Warrior. Speaking of names, Dahlia Sky was also called Amber Rose, Madison and Shyla Jameson – but of course you knew these already about her, just like you knew that she was born on the 10th of August 1989 in California and that she entered the adult industry in 2010. And if you didn't know all of these, there is one thing that you should remember about her: that she loves doggystyle – and if it is anal, then all the better!
If you look at her, you could believe that she has been a slutty girl for her entire life – but it isn't so, even if she was named the World's Best Pornstar not even a year after she got in the industry. As a matter of fact, she did lose her virginity – sort of – when she was 16 years of age. However, after that, she didn't have any sex for 2 whole years!
But when she was 21, she wanted to test the waters and sent a naked picture to an agent. And then, when she saw the opportunity of having fun and getting paid, she took it with her entire body – over and over again, if you saw any of her scenes.
And speaking of scenes, her favourite video was (and will probably be for a long time) Rocco's Coming in America – it isn't just the fact that Rocco is a well-endowed performer, but also because he has always been a great company for Dahlia (and without even mentioning the fact that she likes being the submissive partner).
Speaking of her Anal Queen title, Dahlia said that she wasn't into it and that she never intended of shooting anal scenes on camera. Her only experience of the kind was before coming in the industry and, as she recollects, it was really painful. However, she was still interested, seeing how fun it seemed for other pornstars – so one day, off-camera, she tried it. And, as all the fans realized later on, she was born for it.
But she is quite tame in her private life, even if from time to time she likes to try new things. Other than that, as far as her sexual pleasures are concerned, Dahlia Sky said that she masturbates at least once a day using hitachi.
In 2014, Dahlia Sky made the jump behind the camera, shooting a scene for Pawn That Pussy.
So see how Dahlia mastered the power of her pussy (and not only, since she says that she gives the best head in the industry) and visit her at her own website.
DAHLIA SKY OFFICIAL WEBSITE >>
Date posted: January 18, 2015