READ MORE ↓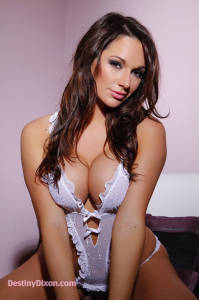 Destiny Dixon is the kind of girl that every man, and a few girls, dream a brunette with huge tits, a perfectly round ass, mind blowing sex skills, and so many more talents. She also has a major ambition to become one of the top porn stars in the business! Destiny is always ready to do whatever it takes to reach the top sucking and fucking every cock or pussy that cums her way. As far as Destiny is concerned to become the biggest slut in the business you have to prove you got what it takes. She isn't going to wait for the planets to align to get to where she wants to be.
So when the camera turns her way Destiny gives it her all, devouring tasty lesbian pussy and worshipping cocks with her tongue. She may not have years of experience doing porn under belt but Destiny's fuck skills have already made her a legend. Every scene that she does is filled with the most intense fucking that anyone could ever hope to see. Destiny without a doubt knows how to put on an entertaining show. Whether she is drilling a tight snatch with a strap on or guzzling cum from a throbbing cock Destiny does it like no other.
She is just as ambitious in her time off set where she has picked up a wide range of skills that help make this big titted brunette that much hotter. On top of being an upcoming porn star Destiny pro motorcycle stunt rider. She loves taking her bike out into the desert for a little adrenaline filled action any chance she gets. When she's not fucking like a machine, riding her bike in the desert, or acting as a stunt driver Destiny spends times showing off her brains.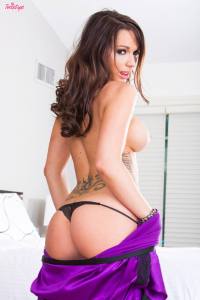 Topping off her long list of talents is web design; Ms. Dixon is a webmaster designing and operating her own site Destinydixon.com. Her site is where she shows off both her top notch web design skills as well as her unbelievable fucking skills. Destiny even has a section of her site designed to help her fans keep up with her latest adventures on and off the set.
Destiny also offers her fans a little something extra on her site, a live webcam show. It turns out that Ms. Dixon on top of being a porn star, motorcycle stunt driver, and webmaster is a web cam girl as well. She puts on regular cam shows for loyal fans of her official site. Destiny has even done a contest where fans could apply for a chance to fuck their favorite porn star live on online.
Contests and live cam shows are just another way to help Destiny reach ultimate goal of being the biggest slut there is. She also puts a huge amount of that drive to succeed in suping up her body as well. Her perfectly crafted bouncing tits are a great example of her love of body mods. Destiny's tits are the perfect example of body modification done right, making everybody crave a chance at getting a hold of them.
Date posted: March 5, 2015