READ MORE ↓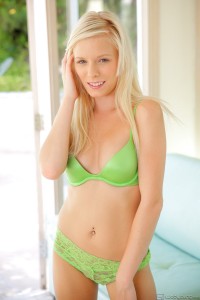 Elaina Raye is a petite Caucasian blonde with blue eyes and small natural tits (34A-22-32). She's only 4 ft 11 in (150 cm) tall and she weighs 88 lbs (40 kg). She was born in North Carolina, USA, on April the 16th, 1992, and she grew up with parents who were strict Baptists. You can only imagine how they felt when they found out that their daughter wants to be a pornstar. On the other hand, her brother was supportive and he's proud of her. He's simply happy that his sister decided to leave North Carolina and do something with her life. Her first job was not even close to what she's doing now – she was a counselor in a summer camp. After that she became a waitress at Hooters (although she has small tits she got the job because she stuffed pads in her bra). Elaina's navel is pierced, she has tattoos on her right thigh and on her left forearm, and sometimes she wears braces.
Porn Career
Her career in porn industry started in 2011. It is said that her agent tricked her into shooting porn. He found her Myspace account and offered her to go to LA for something that was supposed to be just a nude modeling shoot. After she had arrived to LA, only then he explained that it was actually a porn shoot and that she'd have to fuck in front of a camera. True or not – it turned out that she loved it and now she's thankful for his little scam. Most of all she enjoys the fact that porn gave her a chance to explore her sexuality, and at the same time she's always safe and there's no risk involved because everything happens in a controlled environment.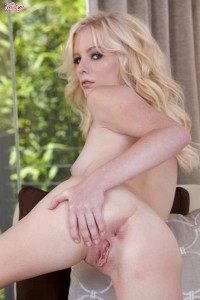 For example, she says that the most interesting sexual experience of hers was her first scene for a site called Public Disgrace. It was a scene where she was fucked extreme-porn-style at a public convenience store, and a bunch of people were watching and filming the whole scene with their mobile phones, and touching her everywhere while she was getting fucked. Her work can be viewed on sites/networks like Naughty America, Twistys, Brazzers, Kink, Girls Way (etc.), and she's also worked for some of the most famous adult studios like Devil's Film, Hustler Video, New Sensations, Kick Ass Pictures, Vivid, Porn Pros, Penthouse and others.
Private Life
Elaina is submissive and she likes rough sex. She likes to swallow and her favorite position is when her legs are over her shoulders (probably because it enables deep penetration). Besides her clitoris, the most sensitive part of her body are her titties and she also likes being kissed on the neck. She's turned on by assertive men who are willing to make decisions and take what they want. The strangest place she's ever had sex at was a trampoline, and for masturbation she prefers Hitachi. Her favorite food is chicken (she likes eating tons of food), her favorite color is pink and her favorite pornstar is India Summer. Elaina is a bit of a troublemaker – she likes smoking weed, riding dirt bikes and playing Guitar Hero, and she doesn't like waking up early.
Date posted: October 5, 2016