READ MORE ↓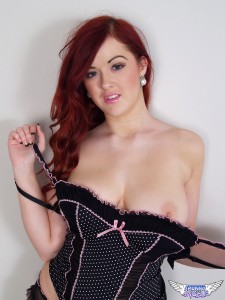 Jaye Rose is among the few porn stars that come from Wales, United Kingdom. She was born on August 27, 1990. Jaye became a porn star in 2011 and as she says it was just by chance. She started in the glamour world, but it made her feel oppressed and far from the sexy girl she wanted to be. Soon she decided to quit that work and it all started from there.  Jaye equally enjoys photo shoots and filming scenes. Porn allows her to travel and film on many exotic places, and Jaye says that she couldn't be happier about that.
Jaye isn't like most stars; she doesn't like regular exercising and the only physical activity she gets is from sex. Her breasts are her favorite part of her body and she enjoys playing with them. She considers herself to be old school because Jenna Jamison is her favorite porn star.
As a nerd who enjoys learning new things and museums, Jaye spends a lot of time visiting such places wherever she travels (whether for work or leisure). When she doesn't film, she is quite lazy. Usually after she finishes her scenes, she goes home and does some naughty webcam and afterwards she relaxes in a bath.
Date posted: September 9, 2016