READ MORE ↓
Early life
Jillian was born and grew up in Minnesota. She and her mother were moving quite often and they usually lived in small towns in the Minneapolis metropolitan area, in a little camper. She is of Irish, Norwegian, Scottish, Swedish, and Welsh descent. At the age of 15 she spend one year with her father in Indiana. She didn't quite fit in there, although she had good grades, so she moved back to Minnesota.
Jillian lost her virginity when she was thirteen years old. She had a lot of sexual partners, which sometimes led her into trouble like that one time when she slept with a guy who had a girlfriend. By 9th grade she didn't have that many girlfriends, because most of them didn't like her. Anyway, she didn't like them either because they were very dramatic.
When Jillian was fourteen, she got her first job; she worked as a cashier, at a McDonald's to help support herself and her mother, who didn't work at the time. She kept that job for a few months and then started working at a retail store. When she was sixteen, she was a beauty advisor at Walgreens. Besides that Jillian worked as a magazine telemarketer for a year when she was seventeen years old. By the time she turned eighteen, she was a waitress and hostess for Marie Callender's.
Porn career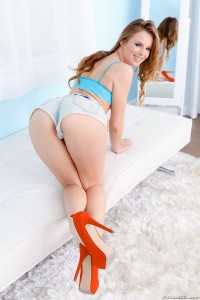 In 2013, Jillian started webcam modeling; it was during the summer before her senior year of high school. She was on MyFreeCams.com, where an agent discovered her and contacted her. That was her way into the adult film industry. She was eigteen years old. Her first sex scenes were filmed for Amateur Allure and Fucked Hard 18. Early in her career, she used the stage names Anna and Jillian Brookes, until she decided to go solely by Jillian Janson. Last year (2015) she began feature dancing. This year she was placed on CNBC's list of "The Dirty Dozen: Porn's biggest stars".
Personal life
Prior porn Jillian has been strictly with guys, but after she became a performer, she has slept with girls too. Now that she is in the industry she never has sex off camera. In the past, she had sex every day.
Janson was still in high school when she began her porn career. Soon she dropped out and moved to California, not strictly for the business, but because her classmates were bullying her after they found out that she was in porn. Her mother is supportive of her porn career, but her father disowned her.
Date posted: July 14, 2016