READ MORE ↓
Blue-eyed BBW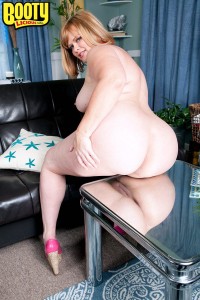 Marcy Diamond was born on January the 9th, 1981. This BBW model is of Danish ancestry, but she was born and raised in Miami, Florida, USA. Her blue eyes are beautiful, and her hair is usually red, but sometimes she's a blonde or a brunette. Since the last time we wrote about her, Marcy has gained 20 lbs, so now she's a bit "bigger" than she was. She's 5 ft 3 in (160 cm) tall and now she weighs 170 lbs (77 kg). Consequently, her measurements have changed to – now they are 38D-30-50 (her boobs are natural). This Caucasian girl can be proud of her nice big round ass, and her butt is definitely one of her most important assets.
Tall enough for porn
After her dreams of a modeling career were ruined (she was disqualified from a contest because she wasn't tall enough), she stopped modeling for years. Then, out of the blue, a guy offered her to do a session for his magazine, and that's how she started modeling again. Pretty soon her fans wanted more and started begging her to go further, so she decided to start shooting porn. Now she does solo, lesbian, B/G and group scenes.
During her career she's worked for various adult sites, and she was featured in magazines like Babe, Lust, THICK, Hammer, FIYA, Stunnaz Mag, etc. Besides that, she did some mainstream work by appearing in 2 music videos (a song "Turn It Up" by DJ Epps ft. Benzino & Khal-El, and a song "I'm My Own Boss" by Siti Slicka ft. Young Ethah).
Singing pornstar
This beauty loves when a guy grabs her big round ass during sex, and her favorite position is doggy style. Besides that, she also loves getting an oral satisfaction. As a matter of fact, her favorite part of her body is her pussy. She likes intelligent and confident guys who have nice manners, and she hates men who are playing games. If a man likes a girl he shouldn't be playing games by waiting for days – he should call her right away and admit that he's attracted to her. She also likes nice smells and she can't stand people who don't smell clean. Another thing she hates are dirty nails. This girl is very loyal to her friends, and she gets very disappointed by disloyalty. Besides English, Marcy speaks Spanish, and she also sings a bit. She recorded 2 songs for a compilation CD with an award-winning producer Lasalle Gabriel. One of her favorite musicians is Rick Ross, and she would like to appear in one of his music videos someday. She would like to travel to Denmark in order to get to know the country of her ancestors, and besides that she would like to visit Spain.
Date posted: October 16, 2016