READ MORE ↓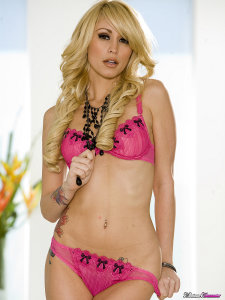 Born Monique Alexandra Rock on the 16th of May 1982, in California, Monique Alexander has been for quite some time the sole reason why men have woken up all set and ready for a morning quickie. And for all this time she has been the girl next door – literally, nobody that met her in real life (without knowing her a bit) realized that she was actually a porn actress.
Life & Porn Career
Her career as a pornstar started at the age of 18 (so in about 2000), when she started stripping in order to make an extra buck – at that time, she was also working as a hotel receptionist. From there, it didn't take long until she started doing photo shoots for adult magazines, with the first one being shot by famous adult photographer Earl Miller.
But it took a whole year until she started shooting hardcore films – if until then she was the girl next door shooting solo scenes, in 2001 she shot her first girl-on-girl scene. She was very successful from that same year, grabbing a contract with Sin City. From 2004 until 2009 she was signed under Vivid – however, she also shot softcore films for HBO and Cinemax, films such as Hotel Erotica and The Sex Spa. But her first experience with a man in front of the camera didn't come until 2004 – and the man who had the honour was none other than Rocco Siffredi, in Vivid's Lexie and Monique Love Rocco. However, this doesn't mean at all that she was just a lesbian until then – many of times, Monique Alexander said that she is a true bisexual, having loved both men and women long before shooting the scene with Rocco.
Curiosities & Experiences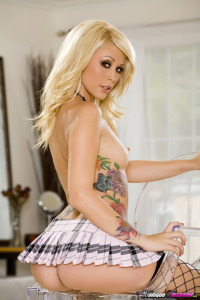 As the starlet recollects one of her first truly amazing experiences with a man, she used to believe that anal sex isn't just painful, but also gross. However, in 2008, when she was in her hometown having sex with a guy she always hooked up, she just felt like she wanted to try it. Since neither her nor her partner were experienced, she took the reins and sat on top of him – slowly and gently, Monique Alexander realized that she never had a real orgasm until that moment.
But this wasn't the only life-changing experience she had – another one happened in 2010, when she already had 10 years in the adult industry. And this change was one that she wanted to do, and not because every starlet has done it – so she had breast implants, something with which all the fans agreed instantly. As said, she didn't do a boob job because of the industry – as a matter of fact, as of lately, she doesn't really have time for shooting hardcore films because of all the solo photo shoots and all the conventions she has to attend to. She isn't shy about her success nonetheless – as Monique Alexander said, when she started doing hardcore films, she started in order to become the best. Over the course of time, she has had 8 nominations and wins at the AVNs. She was busy and keeping busy still, being also involved in all sorts of humanitarian causes. So visit Monique Alexander official website – she is the girl next door with which even your girlfriend would want to have a threesome.
Date posted: January 10, 2015