READ MORE ↓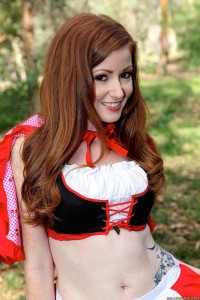 Whenever we see a beautiful redhead walking down the street, all we have in our head is the eternal question: "Does the carpet matches the drapes?" In the case of Nikki Rhodes you don't have to live with this question, because she is a porn star, so it's her job to show you. And the thing is that it does. Her pussy is covered with a puffy orange fur that making it look fresh and magical. The rest of her body is just as awesome as her pussy. She has all natural boobs, measuring 34C, which are not too big but not small either. Some say that's the perfect size, because she can take a boob job, but her boobs won't get saggy. Her hips are wide and her butt is big and round. Her skin is really pale, which is awesome for me and many other guys, because her ass and pussy are also super white, bleached-like looking. She also has a big tattoo, going from her left side, passes over her belly right under her pierced navel and ends right above her hairy sweet pussy. She is absolutely perfect, so check out what she did as a porn star, in the following paragraph.
Maybe She Comes Back!
I am sorry to break it out to you, but this perfect redhead is not part of the porn world anymore. After 7 years in the business, she retired back in 2013. However, we got to be thankful, because in the time between 2006 and 2013 she stared in almost 200 movies. Nikki Rhodes didn't intended to be a porn star when she entered the adult industry. At first, she was just a make-up artist on the set. However, she looked too good not to be proposed a role. Since then, performed for the studios of Kick Ass, Evil Angel, Brazzers, Vivid, Reality Kings and others.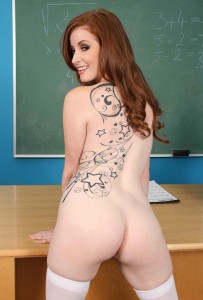 According to her, the best collaborations of her career were with the talented photographer Glenn Francis, who worked with most of the major porn stars but also with other kinds of Hollywood models and actresses. During her career she used other stage names as well: Nikki Roze, Nikki Rose and Nikki Coxxx. She received just one award during her career, but for something you wouldn't expect. In 2009 during the AVN convention, she was awarded the title for the most outrageous sex scene, for her role in Night of the Giving Head, a zombie porn parody in which undead sluts are raising from the grave looking for cock to munch on.
A Blushing Redhead
Although she is a very sexual being, Nikki Rhodes is somehow embarrassed when fans recognize her from the movies or ask for autographs on naked pictures of hers. She loved doing porn because it was an empowering activity for a woman, and she did it keeping her feminist side in check. Nikki Rhodes never did things that can be considered degrading or humiliating for females worldwide. She considers herself a role model for women who want to live their sexuality to the fullest, but also for redheads who live with the ugly duckling complex. She has a very artistic spirit, and she loves to draw and paint and she doesn't go out much. For her, the perfect evening is a good book or a nice movie. She also likes to spend time outdoors, but since she is ultra-ginger, she can't be in the sun for so long. Although she doesn't perform anymore, she still keeps in touch with her fans on social media.
Date posted: January 30, 2016