READ MORE ↓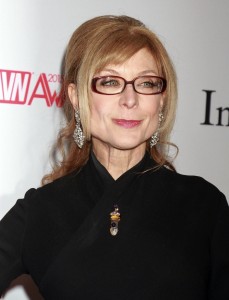 Born on the 11th of March 1959 in California as Marie Louise Hartman, Nina Hartley is the living legend of the adult industry – her pornstar career started in 1984 and since then she became the star of more than 1.000 movies, having also directed 6 movies herself. With a career spanning over 3 decades, Nina Hartley has entered the Hall of Fame of Legends of Erotica and has won a Lifetime Career Award from Ninfa – she is still acting at the moment, although only in the mature niche.
Nina Hartley started her pornstar career much like everybody else – by stripping while she was still a sophomore at the nursing school. She said that she chose the stage name Nina for the Japanese tourists to be able to pronounce her name. She also said that Hartley is very close to her real name and it does sound as a real name a person would have.
Also, the actress said that her success in the beginning came also because she was blessed with three of the most enticing things a man can find in a woman: big, baby-blue eyes, a round and savoury ass and the waist of a wasp. While she did appear in several other movies before, her debut can be considered Educating Nina, shot in 1984.
Being a hall of famer and advocating for the right of women to screw with who they want, Nina Hartley has also appeared in shows such as Oprah Winfrey's one. The thing is that, during that show, she was blamed for who she was by the same women she wanted to defend – however, she didn't back down and she made her point.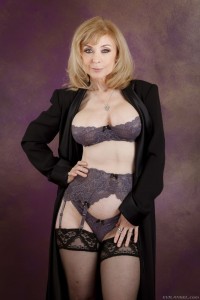 Another interesting thing about her is that she has fans all over the place, including in here some of the most acclaimed directors from Hollywood. For example, Paul Thomas Anderson cast her in Boogie Nights in 1997 (in a minor role, granted) just because he loved her work.
And her work doesn't involve just shooting porn and teaching young starlets how to kneel in front of a man. She also released several instructional videos which can be used by all those that wish to spice-up their sexual lives. Everything from the unwritten rules of foreplay to the secrets of anal sex and bondage can be found in these tapes.
Nina Hartley has also published a book, in which she reveals the secrets of total sex. As a matter of fact, the book (released in 2006) is called Nina Hartley's Guide to Total Sex.
But why would one read a book instead of watching the overripe Nina kneeling and standing on all fours? Why would anyone seek advice in a book when one could simply make a quick search and watch Nina herself teaching both men and women how to screw?
As Nina Hartley said, most starlets nowadays are younger than her breast implants – and she is right. So enter Nina Official Website, because there are a lot of things she can teach you!
VISIT NINA HARTLEY OFFICIAL WEBSITE >>
Date posted: June 8, 2015