READ MORE ↓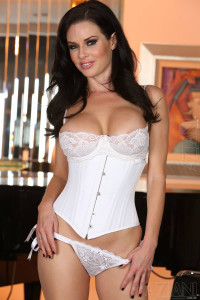 Veronica Avluv is a hot brunette vixen who dedicated her career to the art of making men happy with her body and sensual sex skills. Her stage name says a lot about her. First of all, Veronica is a perfect name for a naughty MILF. The last name of her stage identity is just the word vulva spelled backwards, which is kind of funny. She was born in Rowlett, Texas, back in 1973, and her mother was a concert pianist, so she grew up learning what passion is. As a young lady, she was a spirit of many passions, including choir, drill team and skateboarding. Besides the regular activities a high school lady could have, she was also trained in opera and piano and she was a singer in a band. Veronica has a medium height of 5 feet 2 and that's the only medium thing about her, because she packs a 34 D bust and a round delicious booty. She has breasts implants and no tattoos. Rumors say she went through a vaginal rejuvenation procedure to make her pussy look fresh and young. She is yet to comment on those rumors. With long black hair and brown eyes, this MILF delight is everything you could wish for when it comes to adult entertainment.
A Short, But Impressive Career!
Veronica's career is kind of short, but that doesn't mean she didn't reached success. Even if she entered the adult entertainment world as a stripper, back when she was 17 years old, by using a face ID, but Veronica didn't made the step into the film industry up until she was 37, in 2010, with a lesbian scene shoot for Girlfriends Films, along Jessi Palmer. When asked about her sexual inclinations, Veronica declared that she is highly bisexual, having sex on multiple occasions with women throughout her life. Because of her opened sexuality, she was very natural on screen, skill that brought her contracts with the major studios of the California's porn industry, including Hustler, Brazzers, Elegant Angel and even with Kink, for which she only played submissive roles in various productions.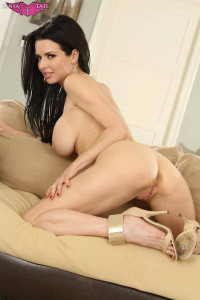 Because of her yet short career of only 5 years, entering the industry as a MILF, she had to compete with other porn stars of this category who have over 20 years of activity. However, she was nominated countless times for her performances and in two occasions she actually won: the XCRO Award for MILF of The Year in 2013 and the AVN award for Best Supporting Actress in 2015.
From Stripper to Porn Director
Veronica has a calm life before getting into porn, even if she performed as a stripper in multiple occasions. After a short gig as an exotic dancer in Texas, she moved to California, where she started out as a make-up artist and hair stylist. Eventually, she winded back into stripping. Veronica was also married for a while, but she became a widow after her husband passed because of a heart attack. She lived with music all her life and even if she doesn't perform anymore, she loves listening to it. Veronica is a hardcore fan of the classic rock and her favorites bands are Led Zepelin and AC/DC. She is an animal lover, but she can't be consider neither a cat nor a dog person, because she has a chihuahua /husky mix and a Russian cat. All in all, Verionica Avluv is a great MILF and according to her promises, she is here to stay, so luckily, we'll get to see more of her in the future, but she also plans to get involved more behind the camera. Her latest project is an orgy site called FanXClusive which will be launched sometimes this year and which is directed and produced exclusively by this wonderful vixen.
Date posted: June 7, 2015