READ MORE ↓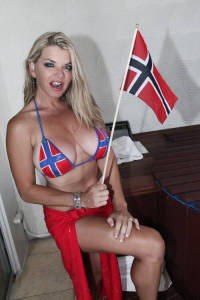 Born Monica Baasnes on the 12th of June 1965 in Norway, Vicky Vette was recently named the most followed Norwegian on Twitter – and how could it be otherwise? She is one of the most celebrated MILF's in the industry, with her blonde hair, massive tits and longer than life legs being what men's dreams are made of.
But Vicky Vette wasn't always the mother you'd like to bang – she had quite a calm life, so to speak. After moving as a child in Canada and having only corporate jobs, she considered that if she wanted to live her life then 37 was the perfect age to start. But this doesn't mean that she was acting like an angel before that – as she later on confessed, she did bang most of her employees before quitting her job and going full hardcore.
So when she was 37 she sent her photo to Hustler's Beaver Hunt and she won – and it wasn't the money that excited her the most, but the opportunity of moving forward. And that is because that Hustler prize led to shooting several other solo pictorials, which led to a photo-shoot girl on girl, which led to 60 hardcore movies in just a couple of months.And the best thing about it was that she and her husbands were already swingers – so everything fell perfectly into place.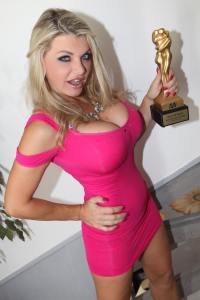 She is no angel by all means, if you saw any of her features – and she had quite the experience even before doing hardcore films. Her most intense experience was when she convinced one of her boyfriends to have sex on the altar of a church, as she later confessed (pun intended). Then she said that her old Corvette saw probably the most action a car ever did – and all these happened just because she felt like it.
But then again, as she said, she does like unscripted scenarios, in which the partners (no matter how many they are) just let loose and feel the pleasure – this is, after all, the main reason why people have sex.
As far as she is concerned, all the porn fans should have heard of her name – she has done everything so this would happen. However, if a novice wants to see one of her movies, than he (or she) should check out Cum Drenched Tits 3 (which was shot in 2005), simple because she herself had the most fun.
In a nutshell, in that video, she does BJ, anal, some blowbang, then, finally, she releases lots of cum on her tits. As Vicky Vette said, that was an unforgettable day for her – she had so much fun, that she blew even the lighting guy. Vicky Vette was been nominated 21 times at some of the most prestigious industry awards – other than that, she has won 9 other awards, including Best MILF and Best Star of the Year. If you want to keep in touch with her latest work (she intends to challenge Brazzers's dominance with what she's doing), then check her out at Vicky At Home – enter once and you will come again and again and again.
Watch Vicky Vette Videos on:
Videos: 600+
Photos: 750+ Sets
HD Videos: 81+
Photos: No
HD Videos: 79+
HD Photos: 79+ Sets
Date posted: February 9, 2015