TOP 5 Porn Sites to Watch Porn Parodies
Porn parodies are some of the most interesting movies in the adult industry. Not only that there is more action besides the sex itself in this kind of movies, but they also give you the chance to live your fantasies. How many times have you watch a movie only to fantasies about your favorite sexy character in a sex scene? Well, not all of your favorite characters get naked for you and all the fans who dreamed about this moment. Popular TV series, movies or cartoons are being spanned off for an adult audience every year. Here is the Top 5 List of Sites where you can watch porn parodies. Continue reading →
#5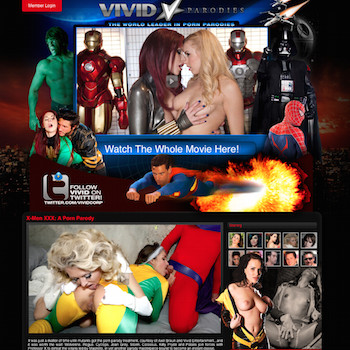 Vivid is the second premium porn site where you can find Axel Braun productions. He is so good that many sites want him to produce for their libraries. For Vivid Parodies, Axel produced some awesome super hero sex movies. Avengers, X-Men, Wonder Woman and Spiderman are some of the popular super hero stories that were used for Axel Braun parodies. Watch your favorite superheroes in kinky sex scenes on this site right now. The site also has a parody on The Incredible Hulk and a cross universe parody that brings DC's Superman and Marvel's Spiderman in the same XXX parody.
#4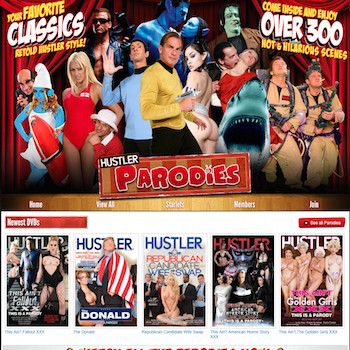 Hustler is known for many things, but lately they make some scandalous parodies. Besides the "This Ain't" series that brought us titles like This Ain't Supernatural, This Ain't Duck Dynasty, This Ain't Modern Family or This Ain't The Interview, Hustler Parodies also puts out political satire porn. The latest scandalous productions are Republican Candidate Wife Swap and The Donald, movies that bring you Donald Trump, Ben Carson and the rest of the republican candidates in hardcore and funny sex scenes. I don't know who would want to see Donald Trump fucking, but the movie is out there. So why not watch it?
#3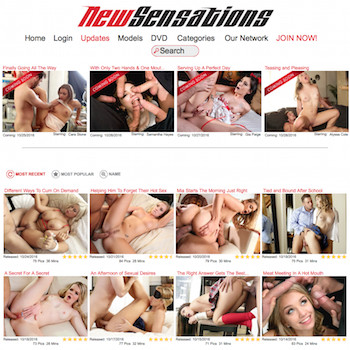 New Sensations is the network that does things a little bit different. Most of the parodies they produce are on movies or series that aren't so easily spun off for an adult audience. However, the result is amazing, and as in the rule 42 of the internet, if it exists there is porn of it. Or at list someone wants to see porn of it. That's how titles such as Anchorman, Star Treck, Scooby Doo or Seinfeld got XXX parodies that can be found on the New Sensations website. The thing that makes these parodies so good is the casting of the porn stars. I don't know how, but all the porn stars in these parodies look a lot like the original characters. It's probably the makeup, but also a thorough search.
#2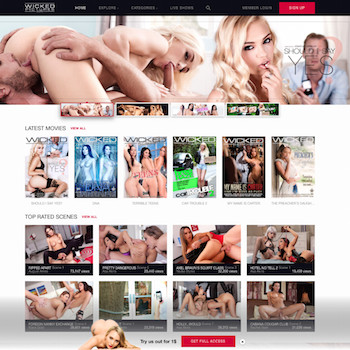 Wicked is a network known for the hardcorness in the porn they produce, but also for the popular porn stars with whom they are working. But on this network, the directors are also famous. I don't know how many porn directors you know, but you certainly heard of Axel Braun, especially if you're into porn parodies. He's in charge of producing porn for this category on wicked, and the porn he produces is amazing. Some of his latest works that can be watched on Wicked are Peter Pan, Suicide Squad, Batman, Star Wars and Supergirl. Also, he loves working with porn stars such as Asa Akira, who is the image of the network, Chanel Preston, Abigail Mac or Jessica Drake.
#1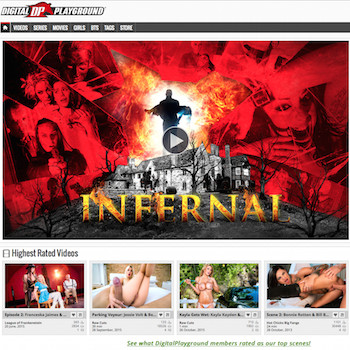 We close this top with Digital Playground, one of the most popular porn networks on the internet and the most popular when it comes to porn parodies. Besides the high quality original porn the produce, Digital Playground also puts out awesome porn spoof of popular movies. The reason for which they are so good at it is because they spend large budgets on these parodies. From costumes to acting, everything in their productions is on point. Star Wars, Kill Bill, Pirates of the Caribbean, Top Gun or Sherlock Holmes are just some of the titles that got a porn parody produced by Digital Playground.